Can a Nursing Home Take Your Stimulus Check?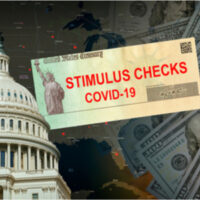 As part of the CARES Act, Congress provided an economic stimulus payment of $1,200 for most adults. This money is designed to help people during the economic downturn and to stimulate the economy. There was no minimum gross income to qualify, so many elderly should have received a check. If the government has someone's bank information on file, then the money should be deposited directly into the account.
Unfortunately, we are hearing stories of nursing homes seizing the check because a resident is on Medicaid. As the Federal Trade Commission notes, however, this is not allowed, and you should talk with an attorney if this has happened to you or a loved one.
Stimulus Payments Don't Count as Income
Medicaid requires that residents contribute most of their income to their care, allowing them to retain just a small amount as an allowance. However, nursing homes are not entitled to the stimulus payments because the check is not counted as "income" for Medicaid purposes. The stimulus payment is really a tax credit. And, under the law, tax credits are not "income."
Because the stimulus payment is a credit, a nursing home is not entitled to take it. Instead, it is included in the personal need allowance that nursing home residents on Medicaid may keep. A resident should not be coerced or badgered to turn over the check.
According to Bloomberg, nursing homes have already received guidance on this issue. They should already know that the payments are actually credits, but the Attorney General in several states have received reports of nursing homes badgering their residents to turn over the money.
Seniors should also be pleased to know that the check will not disqualify anyone from receiving Medicaid in the first place. If you or a loved one has been told otherwise, then you should seek legal help.
Is It Time for a Financial Power of Attorney?
As we age, it becomes harder to keep track of finances. This is one reason why it might be time for a financial power of attorney. If you have a parent who has made several poor financial decisions, then consider putting an agent in place who can handle the finances. This can be a great way to provide everyone with peace of mind and protect your loved one's finances in their final years.
With a power of attorney in place, for example, a nursing home would have to go through the agent before they could lay claim to any checks that come in. This is excellent protection, especially if you suspect that a nursing home might try to skirt the rules.
A power of attorney can be as broad or as narrow as necessary to allow a loved one to continue to exercise autonomy in their lives. For example, you might receive the power to cash checks and perform other routine banking but not have the power to sell real estate or engage in investment decisions.
Speak with an Elder Law Attorney in The Villages
At Millhorn Elder Law Planning Group, our estate planning attorneys have the experience necessary to help guide seniors and their families through the challenges of aging. We can draft the legal documents you need, including financial power of attorney. Please call us today, 800-743-9732, to schedule a free consultation.
Resource:
consumer.ftc.gov/blog/2020/05/did-nursing-home-or-assisted-living-facility-take-your-stimulus-check
news.bloomberglaw.com/health-law-and-business/nursing-homes-cant-take-stimulus-checks-from-medicaid-residents