Dispensing with Myths about Elder Law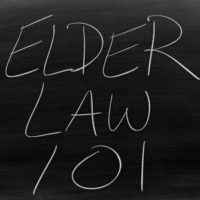 As established elder law attorneys in The Villages, we have heard many myths about this area of law. Unfortunately, some of this misinformation prevents people from seeking out legal help when it would be most beneficial. Below we want to set the record straight on elder law and highlight why now might be a good time to contact our firm.
Myth #1: Elder Law Attorneys Only Handle End of Life Issues
This is simply untrue. A good many of our clients are in their 50s and 60s and have decades yet to live. Meeting with an elder law attorney does not mean your life is about to end.
However, we do help clients think through end-of-life issues, even if those events are on the distant horizon. For example, we can help with estate planning and the drafting of advance directives, like a living will. With an adequate estate plan in mind, you can turn your attention to other things and enjoy your golden years.
Many of our clients are also dealing with issues affecting elderly relatives. For example, Mom or Dad might need a guardian to make financial or legal issues affecting them. Or our clients might have been named the personal representative for their parent's estate. We can also help with these issues.
Myth #2: Once You Write a Will, It Is Set in Stone
Wrong! Our clients always retain the power to revise their wills by drafting amendments or creating a new will from scratch. We also help clients who recently moved to The Villages but maybe had a will created in New York or New Jersey but need it updated to comply with state law.
There are many reasons to revise an estate plan, including a will. We can discuss those reasons when meeting with you.
Myth #3: Elder Law Attorneys Only Draft Estate Plans
Actually, elder law is less an area of law than an approach to legal issues. The fact is that seniors have different legal needs and perspectives that must be considered. Although we definitely handle estate planning, we can also help with other legal issues involving personal injury, long-term care planning, and real estate.
Myth #4: Most Legal Issues You Can Do Yourself
Although we encourage people to read up on legal issues online, the fact is that no amount of online information is a substitute for a lawyer's expertise. We have seen too many people draft inadequate estate plans or bungle estate administration. An attorney often saves clients money in the long run by helping them do legal work correctly the first time. Instead of trying to fix a legal issue yourself, give us a call.
Millhorn Elder Law Planning Group Is Here for You
We remain committed to helping our clients during this difficult time and are available to meet in person or over the telephone. If you have a legal question, now is the time to get the correct answer. For a free consultation with an estate planning lawyer at the Millhorn Elder Law Planning Group, please call us at 800-743-9732 or send us an online message.
https://www.millhorn.com/new-guardianship-bill-could-protect-florida-seniors/