Estate Planning Basics For Active Duty Servicemembers: Part 2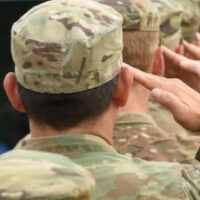 In a previous post our lawyers discussed some estate planning tools for active duty servicemembers in our nation's armed forces. This includes research on survivor benefits plans and drafting a health power of attorney and financial power of attorney. There are additional items that military families should consider, including the benefits of drafting a revocable trust and considerations for minor children. If you are deployed for active duty and the sole provider for your children, it is crucial you identify a legal guardian and review your estate plans in the event of an emergency. Our attorneys at Millhorn Elder Law Planning Group are dedicated to serving families throughout Central Florida with all estate planning needs. 
Choosing a Legal Guardian for Minor Children 
If you are the sole caregiver for your minor children, and when you are deployed you hire a nanny or live-in help to care for them, you should seriously consider naming a legal guardian for your children. While no one expects to have to step in as a guardian, preparing a potential guardian for what is entailed by them is one way to assure you are making the right choice and they are prepared to handle the responsibility should they be called to serve. This is especially true for children of servicemembers. Sometimes both spouses serve or one spouse is a reservist while the other is on tour. Whatever the situation may be, you cannot over-prepare when it comes to your children. Without a legal guardian designated for your children in your last will and testament, family members must petition the court to serve. This process can take months but is eliminated by making a decision in advance. 
Consider a Revocable Trust 
A revocable trust is a great option for anyone who wants to avoid probate administration for their beneficiaries. But it is also a beneficial option for managing financial assets while retaining autonomy over those assets. A revocable trust allows the settlor (owner of the assets held in the trust) to designate a trustee to manage those assets. The settlor can choose when the trust goes into effect, how distributions are to be made and to whom. For example, if you have a 401K account and investment accounts, assigning  a trusted fiduciary as trustee to manage your assets is one way to ensure your spouse and children have access to funds in your absence. You can also designate specific items such as real property to be bequeathed under certain conditions or allow funds to be liquidated to pay for a child's schooling, medical care, or advanced needs. Ensuring your assets are not tied up in accounts only you have access to simplifies the process for loved ones should they need it. 
Contact Veterans Aid Attorneys at Millhorn Elder Law Planning Group 
Our attorneys at Millhorn Elder Law Planning Group focus on veterans aid and military estate planning. We can assist you through all phases of military life from planning for active duty and deployment to preparing for civilian life. Choosing to serve your country is a noble deed and a sacrifice for you and your family. Make sure you have considered all your options and secure your financial future by consulting with an experienced estate planning attorney. Call our lawyers at Millhorn Elder Law Planning Group today to schedule a consultation.