Florida Woman Sentenced To 145 Months In Prison For Elder Fraud Scam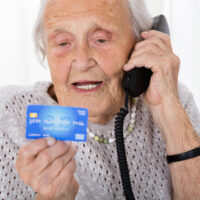 A West Palm Beach woman was recently sentenced to 145 months in prison for an elder fraud scheme. The defendant, Edtronda Simon, and co-conspirators defrauded multiple seniors in South Florida of more than 1.4 million in funds. The defendants would cold-call vulnerable and unsuspecting seniors purporting to be a bank fraud investigator and claiming that the victim's card was compromised. The defendant would then explain (while the victim was on the phone) that the victim needed to provide their debit card pin, while another defendant and co-conspirator would visit the victim and obtain the debit card to "replace" it.
This same scheme was carried out multiple times, and the defendants would purchase money orders, visit ATMS and drain victim bank accounts as soon as possible. The defendants targeted victims in multiple counties including St. Lucie and Indian River. How can we protect elderly loved ones from financial scams?
What is Considered Elder Fraud?
Elder fraud is abuse, control or misappropriation of an elderly person's financial assets or personal information (like a social security number). A scammer might target an elderly person on the internet or over the phone because of their trusting nature or vulnerability.
Your elderly loved one might receive cold calls from scammers impersonating their bank, the IRS, SSA or Veteran's Administration, pretending that they need a loved one's credit card information, bank account and routing numbers or SSN for verification purposes. Or an elderly loved one might open a pop-up or phishing email only to expose their banking passwords and private information to hackers. While government agencies are aware of common scams, there is simply too much fraudulent activity to keep up with. Fortunately, there are good habits and practices you can teach an elderly loved one to protect themselves from identity theft and fraud on the phone and internet.
Best Practices to Thwart Financial Scams
Inform your elderly loved one that government authorities will not reach out over the phone for bank account or financial information. If you have a question about the identity of a caller, write down the phone number and verify the call. The IRS and Social Security Administration will only communicate via written mail unless contacted directly.
Install antivirus software on your loved one's computer and report spam in email accounts. Teach them not to save payment information online or provide credit card information over the phone. Also discuss a security freeze on your elderly loved one's credit accounts with Transunion, Experian and Equifax. A security freeze is completely free and requires lenders to verify an applicant's identity before extending a line of credit. Finally, make sure your loved one knows they should not be embarrassed to talk to you if they believe they have been a victim of theft or fraud. Our attorneys at Millhorn Elder Law Planning Group can help you identify a plan of action to protect your family from elder fraud and abuse.
Contact The Villages Attorneys at Millhorn Elder Law
Now more than ever, it is important to be vigilant and safeguard your personal information and financial accounts. Criminals continue to target vulnerable individuals for financial and cybersecurity scams, but an informed elder is a protected elder. Don't be afraid to discuss best practices for safety and security with your loved one. Our estate planning attorneys at Millhorn Elder Law can assist families with strategies to protect financial assets and prevent elder exploitation. We specialize in elder law with two locations to serve you in Oxford and The Villages. Call today to schedule a comprehensive consultation.
Sources:
fbi.gov/scams-and-safety/common-scams-and-crimes/elder-fraud
justice.gov/usao-sdfl/pr/georgia-woman-who-preyed-south-florida-seniors-stole-more-14-million-sentenced-145