How Do You Get Better Nursing Home Care for Your Loved One?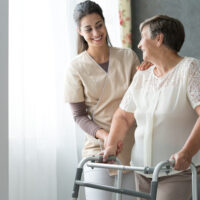 Moving a loved one to a nursing home is a difficult decision for many. Not only do many seniors experience feelings of guilt, but it can be difficult to truly check up on a loved one who is no longer living in your home or with family members. When loved ones move into a nursing home, they might be hours away. Our clients sometimes can only visit once or twice a month, if that, given their hectic schedules.
However, nursing home abuse and neglect continue to be serious problems. And more than one person calls our law firm to question what they should do. Maybe they saw a strange bruise on their loved one that staff couldn't explain adequately, or possibly their loved one acted frightful but refused to divulge if anything was wrong. Other residents have lost a lot of weight or are suffering from a bad bed sore. How can concerned family members demand accountability and improve the care their loved ones receive?
Talk to Family Members of Other Residents
As AARP notes, Medicaid and Medicare require that nursing homes permit families to form councils that can meet privately at the facility. This is a great way to talk to other people who have a loved one at the nursing home. You can ask anything you want, such as whether other family members have suspected abuse and which staff members could be problematic.
Ask if a council exists at your nursing home. If none does, think about starting one so you can discuss your concerns with other people. You might discover that there are widespread problems with the care provided.
Attend Care Planning Conferences
Nursing homes should hold periodic planning conferences which family members can attend. Ask that the ombudsman attend along with staff. The purpose of the meeting is to discuss the needs of residents and how the nursing home will address them. You should feel empowered to raise any concerns you have about the care your loved one is receiving.
Raise Concerns with Management
If you have concerns about specific staff members, take them to management. Also state you are afraid of retaliation against your loved one, if that is indeed the case. Ask management to promptly report back to you to explain how they are addressing the problem, and call if you don't hear anything in a timely manner.
Take Complaints to the Appropriate State Agency
Nursing homes should respond promptly to all complaints about the care provided in the home. If not, you need to go to a higher authority, which is typically the state. Visit the Florida Health Care Complaint Portal, which will request information and then route your complaint to the appropriate agency. Try to be as detailed as you can with your allegations, since that can assist the state's investigation.
Speak with One of Our Elder Law Attorneys in The Villages
Millhorn Elder Law Planning Group provides solutions to your legal problems. If you need someone to talk to in The Villages, or if you have a question about elder law or estate planning, give us a call at 800-743-9732. We offer free, confidential consultations.
Resource:
assets.aarp.org/external_sites/caregiving/options/nursing_home_system.html
https://www.millhorn.com/its-time-to-review-beneficiary-designations/