Should You Get Paid for Taking Care of Mom or Dad?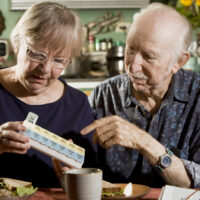 As parents age, they increasingly need help with daily activities such as getting dressed, bathing, and cooking meals. Other seniors are virtually bedridden. Watching our parents decline is difficult. However, there are other practical concerns that loom large.
Who will take care of your parents? Can you afford to hire at-home help, or does Mom or Dad need to go into a nursing home? These are only some of the questions many people ask.
Sometimes, elderly parents move in with their children, which is often the best resolution. Or a child regularly stops by to take care of their parents. In these situations, many clients have a simple question, "Can I get paid for the work I perform?"
Why Getting Paid is Sensible
Some of your siblings might resist that you get paid for taking care of a parent. They might believe that you are taking assets that would pass at death to the rest of the family.
But getting paid for taking care of a relative is perfectly reasonable. After all, if you are becoming a full-time caretaker, then you will forego the ability to earn an income, as well as contribute to Social Security and retirement programs. It is a lot to ask a child to give up that kind money to take care of a parent when the other siblings are not helping out or helping very little.
Even if you provide only part-time care, there are good reasons for getting paid. If you didn't provide the service, you would probably have to hire someone else to do so. Few people work for free. Furthermore, even the part-time care you perform can be exhausting and deprive you of the ability to earn more income.
Creating a Personal Care Agreement
If you and your parent agree you should be paid, then you are best served by creating a legal document called a personal care agreement. This agreement will identify how much you will be paid as well as specific duties. It is basically a job contract, and you should have an experienced elder law attorney draft it for you.
As AARP explains, not having this document could be disastrous. For example, Medicaid could consider any money given to the caretaker to be a gift, which could delay your parent's ability to qualify for public benefits. There could also be tax consequences for the person getting paid, who must report the money as earned income.
There is another good reason to have a personal care agreement. It helps show your siblings exactly how much you will receive and exactly what duties you will perform. This type of transparency can reduce the resentment they might feel, especially if they believe you are taking unfair advantage of your loved one.
Contact an Elder Law Attorney in The Villages
The estate planning attorneys at the Millhorn Elder Law Planning Group have provided comprehensive elder law services for The Villages for years. If you have a legal question, we can find the answer. To speak with one of our lawyers, please call 800-743-9732 today.
Resource:
aarp.org/caregiving/financial-legal/info-2019/personal-care-agreement.html
https://www.millhorn.com/put-your-intentions-in-writing/