The Biggest Advantage Of A Living Trust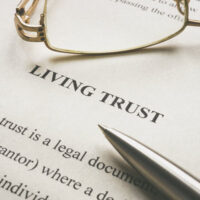 When you are developing an estate plan, there are several tools available to you that can choose to minimize your estate's tax burden, safeguard your assets and wealth, and protect beneficiaries. Not every tool is a good match for everyone. This is why working with an estate planning attorney can be beneficial. An attorney can discuss what your goals are with you and then advise you on the best tools for your circumstances that will benefit you and your loved ones the most.
In Florida, The Villages will and trust attorneys at Millhorn Elder Law Planning Group have extensive experience providing residents with sound legal guidance and estate planning services. If you have a question about estate planning and what tools will be the most effective for your objectives, an attorney at Millhorn Elder Law Planning Group can help.
Below, we will discuss what a living trust is and the most significant advantage of creating one.
Top Benefit of a Living Trust 
A trust is a legal document that holds certain property or wealth for a named beneficiary that a trustee manages. A person that creates a living trust can name another individual as the trustee, or it is possible to name one's self as the trustee. A living trust can be created during one's life versus other types of trusts that become active upon one's death.
There are several reasons why people choose to use various trusts in their estate plans. Different trusts can do different things. For example, an incentive trust is one that holds property or money, and the beneficiary of the trust can only have access to such assets if they abide by the terms and guidelines defined for them. When you know that the loved one you want to inherit specific assets is unable to manage them responsibly, this would be a trust that may be a potential remedy for that conundrum.
When assets and wealth are left behind without certain protections from a will or estate plan, they will have to go through the process of probate. Most estate plans focus partly on ensuring that assets can avoid probate.
Probate is a public court process where one's estate is distributed to pay debts and to give what is left to certain individuals qualified for the inheritance. Probate is not a private process. It can be lengthy, and it also can be costly. There are no guarantees that a person's wishes for who will inherit their estate will be adhered to, and for those that are expected to receive an inheritance, it can be much less than they would have gotten if there was an estate plan in place.
Therefore, the biggest reason and benefit of creating a living trust is that the property it holds will not have to go through the probate process.
Speak to a Florida Will and Trust Attorney Today 
If you are interested in learning more about how a living trust works and if using this estate planning tool is right for you, call the Florida estate planning attorneys at Millhorn Elder Law Planning Group today to schedule a free consultation at 800-743-9732.
Source:
flsenate.gov/Laws/Statutes/2012/Title42/#Title42