Top Scams Older Adults Should Be Aware Of And How To Avoid Them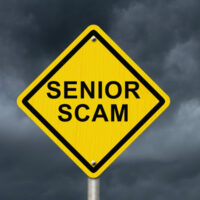 As soon as one scam becomes more well-known, many more undetected fraudulent schemes are in the works or happening. Unfortunately, individuals aged 65 and older tend to be one of the most vulnerable and targeted demographics to experience fraud perpetrated against them. Scammers are always thinking outside the box, thinking of new and innovative ways to appear credible, and cheating people out of their money or personal information. The threat of scammers throughout the United States is very real and present. According to the Federal Bureau of Investigation, scams are rising in the United States.
At our The Villages, Florida, elder law firm, our legal team cares about the individuals in this unique community and always are dedicated to protecting their interests. This includes providing customized legal services, including probate, estate planning, veterans' aid and administration, and other elder law services, and helpful information and tips to keep residents in the community as safe as possible. Read on to learn more about current scams to look out for and be aware of.
Examples of What Scams Are Popular Right Now
Knowing what scams are happening can help you to avoid becoming a victim. Consider the following examples of scams you may or may not have encountered.
Zoom Emails
Zoom became a very popular method of communication, especially taking off when the pandemic was raging. As a result, Zoom was used by many people to meet and conference with others without having to get together in person. Because it was so widely used, scammers found it profitable to send fake emails that looked like actual professional correspondence from the company. Included in the email was a link to click to remedy the issue detailed in the email. Anyone who clicked the links may have been exposed to malware being downloaded onto their computer that could pick up personal information.
Allowing COVID Vaccination Cards to Become Public
COVID Vaccination cards contain valuable information that scammers can use to steal one's identity. If you were vaccinated and want someone to know about it, you can simply tell them you were. Posting pictures of your vaccine card or allowing it to be made public is dangerous.
Fake Retail Sites 
Social media does not just have the thoughts and pictures of your friends and family but also ads. Fake retail sites that take out ads may look legitimate but are scams. It is easy to see an ad on a social media site that appears to have products you want at an affordable price. You click the add and then put in an order, including using your credit card information.
The scammer now has your information, and you are not getting the quality product you thought you were at the amazing pricepoint advertised.
These are not the only scams that the public should be aware of. There are many more, including social media notices that you won a fake giveaway, fraudulent relationships online via romance scamming, offering services and benefits that are available for providing one's medicare ID number, and the list goes on.
Speak to an Elder Law Attorney in Florida Today
It is critical to be aware of all the different ways scammers operate and try to get your information so you can be more discerning with your actions. Staying safe and protecting yourself from scammers is incredibly important.
If you have any questions about issues related to elder law in Florida, the Florida elder law attorneys at Millhorn Elder Law Planning Group are here for you and can offer support and guidance. Please call today for a free consultation at 800-743-9732.
Source:
fbi.gov/news/press-releases/fbi-releases-the-internet-crime-complaint-center-2020-internet-crime-report-including-covid-19-scam-statistics