5 Reasons People Put Off Creating an Estate Plan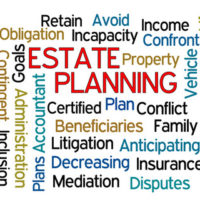 According to AARP, about 60% of Americans do not have an estate plan in place. With the continuing coronavirus pandemic, this makes little sense. Instead, we encourage all people in The Villages to create an estate plan as soon as possible.
With decades of collective experience, we have heard all sorts of reasons for why people put off and outright refuse to create an estate plan. None of these reasons stand up to scrutiny. Instead, delaying the creation of an estate plan creates unnecessary stress for people.
Fear of Facing Death
This is a major one. There are many pieces to an estate plan, but most of them kick in when you die. For many of us, creating an estate plan forces us to fully confront the end of our lives.
However, refusing to create an estate plan does nothing to vanquish mortality. All it does is add stress and uncertainty to a person's life.
No one avoids death. The best we can hope for is to be in control of as much as possible. An estate plan can do that by deciding who will receive your assets and who will make important decisions for you in the event of incapacity.
Lack of Time
People lead busy lives, even retirees. Many people are travelling, visiting with family, enjoying hobbies—and sometimes even dating. There are only so many hours in the day, and creating an estate plan sounds like something that people can put off for another day.
Fortunately, creating a solid estate plan does not require endless hours of work. Instead, hire an experienced elder law attorney to do the heavy lifting for you.
Misbelief that an Estate Plan is Unnecessary
Today, many people hold most of their wealth in non-probate assets. For example, life insurance and retirement accounts will pass to the person named as beneficiary on the account. Other investment accounts can be made payable on death to a beneficiary.
Although most of your wealth might pass outside of probate, you still need an estate plan. For one thing, you should identify a person as your personal representative to represent your estate. If you don't, then a judge will pick someone. For another, an estate plan does more than dispose of assets. You should also have a living will, designation of health care surrogate, and a financial power of attorney.
Divorce
Admittedly, divorcing can upend an estate plan. Under Florida law, a divorce revokes many gifts to a spouse. Some people want to wait until their divorce is finalized before creating a coherent estate plan.
We disagree. Waiting too long can actually work to your detriment. A spouse could still inherit from you if you die while a divorce is in progress. Isn't it better to have something in place now, even if you later revise it later after getting remarried?
Cost
Many people create their own estate plan, often using a computer program, out of fear of paying attorneys' fees. As we have explained before, however, going the DIY route is rife with problems. You might not remember certain assets, or the entire will and/or trust could be invalid because it was not made according to state law.
Meet with an Estate Planning Lawyer in The Villages
Millhorn Elder Law Planning Group can take care of all your estate planning needs. To schedule an appointment with our estate planning lawyers in The Villages, please contact us today at 800-743-9732.
Resource:
aarp.org/money/investing/info-2017/half-of-adults-do-not-have-wills.html