Government Prosecutes Home Health Aide for Financial Abuse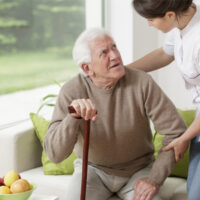 Financial abuse of the elderly does not receive the same news attention as physical abuse or neglect. However, seniors lose billions each year to financial scams, including identity theft and fraud. Sometimes they are exploited by family members, health care aides, or nursing home staff and administrators. Fortunately, the federal government has recently shown a willingness to get tough on the exploitation of our elderly.
The Department of Justice announced recently that it will prosecute a home health aide for financial crimes. This is welcome news to those of us in the Florida community who are dependent on others for daily assistance.
Wide-Ranging Financial Crimes
According to the indictment, Jamie Jakia Cofer, who went by the name "Anna Bell," worked as a home health Aide in South Florida. Beginning in January 2019, she accessed her clients' personal information, including dates of birth, Social Security Numbers, credit card information, and bank accounts. Allegedly, she used this information to open credit card accounts and make unauthorized withdrawals. Alarmingly, Cofer also set herself up as an authorized user on her client's credit card accounts and even used another client's bank information to make auto payments for her utility bill.
In part, Cofer's own carelessness led to her being caught. For example, she used her own phone number or email when setting up an account. These actions kept her clients in the dark about the crimes but also showed that her actions were unauthorized. She faces 22 counts in federal court.
Watching Your Loved One's Financial Accounts
To determine whether you or a loved one is being taken advantage of, you should carefully review all financial information. This means:
Scrutinizing bank account transfers. If you don't recognize a transfer, then someone could have gained access to the account to withdraw money.
Checking that money was deposited into the account. Ensure that the correct amount was deposited.
Reviewing credit information. Everyone is entitled to one free credit report a year from the national credit bureaus. Review to see if any lines of credit or credit cards were opened in your name.
Also pay attention if you receive calls from creditors. They might be complaining that you are behind on payment, which is a red flag that someone has taken out a loan in your name.
Report Fraud & Financial Exploitation
If you suspect identity theft or other fraud, contact the police. You can also report elder fraud to the National Elder Fraud Hotline at 833-372-8311.
Avoiding confronting a caretaker or health aide directly. First, they might quickly try to cover up the crime if they believe you suspect them. Second, they could potentially threaten the person in their care. If somebody is willing to steal, there is no telling what else they might do. Let the police investigate and possibly arrest the person.
Financial crimes violate both state and federal laws. Either Florida or the federal government can bring charges, and a judge can order defendants who are convicted to repay their victims, which is called restitution.
Protect Loved Ones from Scams & Fraud
You can protect a vulnerable loved one by creating a financial power of attorney or seeking guardianship. Contact an elder law lawyer in The Villages at Millhorn Elder Law Planning Group today for more information.
Resource:
justice.gov/usao-sdfl/pr/home-health-aide-charged-twenty-two-count-indictment-stealing-elderly-clients-identity
https://www.millhorn.com/protecting-against-medical-identity-theft/