How to Reduce Costs of Long-Term Care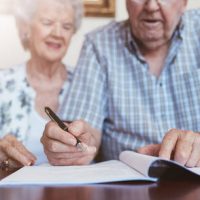 Nobody wants to spend the end of their life in a nursing home, but millions of people will. And the cost is eye-popping. According to Senior Living, the average annual cost of a semi-private room in a nursing home in Florida is almost $100,000. It might be more or less depending on where you live in the state, but you should not expect to pay much less than the average. With the average rising every year, the cost of even the cheapest long-term care in Florida will rise, also.
Many seniors wonder what they can do to reduce the cost of care. Maybe they have an elderly relative who can no longer live alone, so they are shopping for a place to put Mom or Dad. Or maybe they are considering their own needs 1 or 2 decades down the road.
At our law firm, we understand the concerns many people have with long-term critical care. Fortunately, there are things you can do to preserve family assets and still qualify for government assistance to pay for this care.
When You Will Need Long-Term Care
Not everyone who gets old needs to be put in a nursing home. Typically, someone moves into a long-term care facility when they need specialized or around-the-clock care and can no longer live alone. Someone with dementia, for example, usually needs to move into a facility when it becomes impossible for family members to provide help.
However, sometimes all a senior needs is someone to come into the home a couple hours a day. This person could help with bathing and other essentials. Medicaid will pay for this type of home health services, so you should investigate that first as an option before considering moving someone into a nursing home.
Long-Term Care Insurance
This is also an option for those who are looking to defray the cost of future care in a long-term care facility. You should carefully consider whether you need and can afford long-term care insurance. Not everyone ends up in a nursing home, so not everyone should buy it. If you have a family history of Alzheimer's, for example, then it might make more sense.
Also, this type of insurance often costs $2,500-3,800 a year, according to FinWeb, which is not cheap. If you want this insurance, you are better off buying it when you are younger, when the premiums will be cheaper.
Planning for Long-Term Care
Florida law does not require that people bankrupt themselves to qualify for nursing home care. True, the state has income and asset limits before someone can qualify for Medicaid assistance, but the state also allows people to create trusts where they can park excess income to help them qualify.
Meet with an experienced estate planning attorney at Millhorn Elder Law Planning Group to discuss your options. We have helped many people in The Villages qualify for Medicaid assistance, and we would be happy to help advise you as well. Contact us today by calling 800-743-9732 to schedule a free consultation.
https://www.millhorn.com/is-florida-really-retirement-heaven-for-seniors/