Introduction to Long Term Care Planning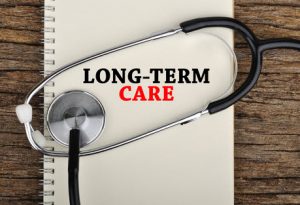 You may have heard of long term care planning before, but you may not know exactly what it refers to. In the world of elder law when this term is used, it is referring to something very specific. At the end of life many people need extended care in environments that can meet their medical and other needs. People may spend the last many years, or even decades, of their lives somewhere where they can access the care they need. The problem is that in the United States this kind of long term care can be extremely expensive. Since many people end up spending so much time in these caregiving environments (such as assisted living, nursing homes, medical facilities, et cetera), the costs skyrocket and can quickly leave those of us with more modest means bankrupt. However, there are ways that you can plan for this scenario and therefore make sure you can get the care you or a spouse needs without leaving you penniless. This is what long term care planning is all about.
There are two major areas of long term care planning that most people focus on: Medicaid planning and veterans aid and attendance.
Medicaid Planning
While older adults are generally able to receive Medicare, Medicare does not pay for long term care. In order for long term care to be covered an individual must be enrolled in the Medicaid program. Medicaid is a means tested program, which means that in order to be eligible you must have assets and income below a certain amount. However, even if you would generally have income and/or assets above the permitted amount, there are ways that you can plan to get yourself below the asset and income threshold while not running afoul of the law.
Veterans Aid and Attendance
Veterans aid and attendance benefits are for veterans or their surviving spouses who are receiving or are eligible for a pension from the Veterans Administration and who need the assistance of a caregiver or attendant for medical reasons. For people who are eligible, these benefits will mean an increase in the pension amount that is received each month, which therefore helps the individual pay for the care that they need. This is a program of the United States Department of Veterans Affairs. If you or your spouse are eligible, you should take advantage of these important benefits.
Contact Us for Professional Help
It is never too early to start thinking about long term care planning. If you are even beginning to think about retirement, estate planning, or other future looking endeavors, make sure you also take long term care planning into account. The best way to make sure that you are making the best long term care planning decisions for your particular situation is to talk with a knowledgeable long term care planning attorney and he or she can help you to set up a plan that works for you and your family. Our experienced long term care planning attorneys at Millhorn Elder Law Planning Group, located in The Villages in Florida, can help you with all your long term planning needs.