Shopping for Assisted Living: the Basics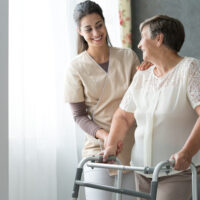 Assisted living is an attractive option for seniors who need some help with daily tasks but do not need to go into a nursing home. For over 10 years, these residencies have grown faster than any other part of the long-term care industry, as reported by MarketWatch.
Seniors and their family members face challenges finding a facility, however. Unlike nursing homes, assisted living facilities are not subjected to strict federal rules, though states do provide some regulation. As a result, consumers do not have the same protections and must do proper due diligence up front to find a good facility.
Also, many states do not provide as much helpful information as they could. Below, we offer tips about what to look for when shopping for an assisted living facility.
Determine What Services You Need
Assisted living covers a wide range of living arrangements. If a facility does not provide the care you need, then moving there could be a costly mistake.
For example, not all assisted living facilities offer memory care, which is vital for those suffering from Alzheimer's or dementia. Other facilities might help with bathing and getting dressed while others do not. Gauge how much help you need and then target those facilities that offer the necessary assistance.
Figure out the amount of medical care available, also. Are doctors or nurses on call? Will nurses help dispense medication? The amount and quality of medical attention varies widely between facilities.
Check whether the Facility Accepts Insurance
Most assisted living is paid out of pocket, and the price is not cheap. According to WiseBread, the average assisted living facility costs $3,700 a month. However, it is important to check whether a facility accepts your insurance, which could substantially defray the cost.
Read the Contract Closely
An assisted living facility should have a contract that covers what services will be offered, the rules residents must follow, and the costs. Demand a copy upfront and read it carefully, with an attorney's assistance if necessary.
Pay close attention to terms of discharge. Some facilities will require that residents leave if their health deteriorates. Often, brochures and other marketing materials give the impression that residents can stay for life, but the contract might state differently.
If you do not understand the contract, contact an elder law attorney to review. Facilities draft their own contracts to their advantage, and you need to know what you are agreeing to.
Look for Red Flags
There are some signs that an assisted living facility might not be right for you:
The facility doesn't ask about your current capabilities. This means the facility could be desperate for people and are accepting people who they cannot properly service.
The facility obscures how much it costs to live there. This information should be provided in clear language.
Language in the contract differs markedly from language in promotional materials. This is a sign that the facility might engage in underhanded tactics.
If you need help, please contact an estate planning attorney at Millhorn Law Firm today. You can reach a member of our team by calling 800-743-9732.
Resource:
marketwatch.com/story/looking-for-an-assisted-living-facility-heres-how-uneven-information-is-2020-02-14
https://www.millhorn.com/watch-for-these-signs-of-social-isolation/