Top 5 Duties Of The Executor Of A Will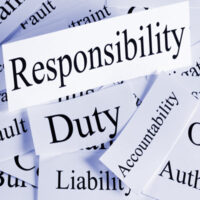 In Florida, an executor of a will can also go by the name personal representative. This individual has specific duties with respect to the wealth distribution of an established estate that must take place to formally and officially close the estate under the law. This is not a task that is always so straightforward and it can even be very complicated and confusing in some situations. Not only can this role be perplexing at best, but it can also take a significant amount of one's time to complete.
If you have been named as the executor of a loved one's will, this is a great responsibility and an honor. Being named shows the trust that your loved one has in you and the belief they have regarding your principles and personal integrity. Acting as an executor is a serious proposition of your time and abilities so it is critically important that you take the time to think about this decision.
If you have been asked to be an executor and you accepted but need some help, the Florida estate planning attorneys at Millhorn Elder Law Planning Group offer assistance with this important job.
What the Executor of a Will Does
The main and core role of an executor of a will is to make sure that the estate is divided up and distributed to the right beneficiaries as per the wishes of the deceased. Also, the executor will be responsible for paying any existing debts and ensuring that the instructions and will of the deceased are recognized and followed. This is not all, though. And though each executor's role and function with respect to how intricate their job is can vary, the basic obligations of an executor include:
Locate and amass all financial documents of the deceased including cars, properties, credit cards, checking accounts, and more.
Take the deceased's original will to court within 10 days. Failure to do so in the correct amount of time may result in a penalty fee.
Identify creditors that the estate must pay and notify them that the death took place. Or, legally object to questionable claims against the estate for repayment of a debt.
Taxes must still be filed, it is the job of the executor to have those tax returns completed and submitted.
Go through all of the assets in the estate to inventory everything to be submitted to the court. This is necessary so that distribution to beneficiaries is done correctly.
Speak to a Villages, Florida Estate Planning and Administration Attorney Today
You accepted the role of executor because you respect the wishes of your loved one and their faith in your abilities to get things done right upon their passing. But, much of your attention and time will need to be devoted to the job. For assistance being an executor of a will and abiding by Florida estates and trusts laws, The Villages, Florida wills and trusts attorneys at Millhorn Elder Law Planning Group can help. Call today at 800-743-9732 for a free initial consultation.
Source:
leg.state.fl.us/statutes/index.cfm?App_mode=Display_Statute&URL=0700-0799/0732/Sections/0732.502.html