Women & Retirement Security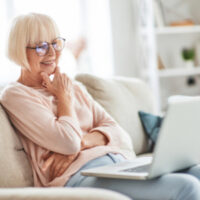 The U.S. Government Accountability Office (GAO) published an interesting report on concerns women have about their retirement security. Generally, women live longer than men, and many women marry men who are at least a few years older. This combination results in women usually outliving their husbands by several years. And for women who never married, living and saving on one income can be a challenge.
Sources of Insecurity & Concern
The GAO held focus groups with hundreds of women where they discussed their feelings about financial security. Some of the main reasons for feeling financially insecure were:
Debt
Lack of savings
Needing to work to pay expenses
Inability to pay for necessities
Even financially secure women were concerned about their financial future, with the following being some of the more common concerns:
Reduction in Medicare or Social Security benefits
Inflation
Medical costs, such as long-term care
Financial challenges from cognitive decline (such as Alzheimer's disease)
These are all realistic fears. Certainly, medical costs can be prohibitive, especially if a loved one needs skilled nursing care. Many women expressing concern did not have substantial assets. In fact, about 40% of households with older women have less than $5,000 in their checking and savings accounts. This lack of resources makes it difficult to survive a crisis.
Social Expectations & Financial Literacy
Many women reported feeling unprepared for handling their finances because of social expectations that husbands control the family checkbook. Women who have not made important financial decisions often feel overwhelmed when widowed and on their own.
Because many women lacked financial literacy, they identified key errors they had made younger in life, such as:
Not knowing when to take Social Security benefits
Not saving enough for retirement when younger
Signing up for Medicare after the initial enrollment period
Spending too much money when younger
Careful planning is necessary to ensure that your financial needs are taken care of in your golden years.
Lack of Liquidity
Another concern was the inability to tap wealth. Someone with a $400,000 home, for example, cannot tap any of the equity unless they sell the home or get a home equity loan or other type of reverse mortgage. Borrowing against a home also increases insecurity, since failure to repay the loan can result in foreclosure. Many people hope to leave their home to a loved one, as well, and borrowing against a home can frustrate that.
High confidence in retirement security correlated with having guaranteed income, such as a pension or Social Security benefits. Defined contribution plans, such as a 401k, can also provide security though their value fluctuates with the market.
How to Increase Your Security
Whether married or single, women can take steps to increase their security, regardless of age. Married couples should create an estate plan that provides for financial security while living. When meeting with an attorney, you can review all of your sources of income and decide whether to buy a life insurance policy that can provide funds. Effective tax planning can also increase feelings of financial security.
To create an estate plan, please contact our estate planning lawyers in the Villages at Millhorn Elder Law Planning Group today. We can discuss your goals in a free consultation.
Resource:
gao.gov/assets/710/709631.pdf
https://www.millhorn.com/how-to-discuss-your-estate-plan-with-your-children/