Advantages and Disadvantages of Electronic Wills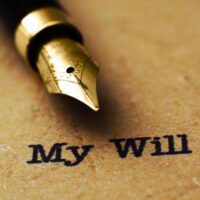 We have written before about electronic notarization of legal documents and how this represents a sea change in Florida law. Today, we want to discuss whether your entire will should be electronic. Electronic wills have certain advantage and disadvantages. But, as experienced estate planning attorneys in The Villages, we also want to caution against the use of an electronic will. If you have a question about creating or revising an estate plan, contact our office today.
What are Benefits of an Electronic Will?
An electronic will is any that only exists in electronic form. It does not include a scanned copy of a physical will.
Why would someone want an electronic will? There are some advantages:
It is easy to store, unlike a physical will, and you will never lose it.
It is easier to share. All you need to do is attach a copy of an electronic will to an email, and you can send it to whoever you want.
If you do not have a printer, creating an electronic will is convenient. Folks who are housebound might like to create one.
By getting an electronic will notarized electronically, a person never has to leave the home. This is a big benefit to someone in ill health who struggles to move about.
Are there Disadvantages to an Electronic Will?
We think there are. Here are some considerations you must think through before you create an electronic will.
For starters, some states might not recognize an electronic will as valid, which can have enormous consequences if you choose to move out of state at some point. As The Ledger notes, only 4 states have rules regarding executing and storing an electronic will. If another state's probate court does not find an electronic will valid, then your assets will be distributed according to that state's intestacy laws, which could send property to people you never dreamed receiving it. If you named guardians of children in the will, then problems can arise in that area as well.
Another concern stems from creating a will on your own. We strongly discourage this practice. Though you might think you will save some money, many people make critical errors when drafting their own wills using software. They either forget significant pieces of property, or think they are leaving property to someone when that property (like retirement accounts) goes to a beneficiary named on the policy.
Nothing replaces the security of having an experienced estate planning lawyer work with you to create a will or other legal document. This might be inconvenient for some people, but an attorney can always make a house call to meet with a client who can't leave their bed.
Contact Us for a Free Consultation
Millhorn Elder Law Planning Group has represented The Villages for years, and we have built our reputation by successfully resolving many of our clients' legal issues. To meet with one of our lawyers, give us a call at 800-743-9732. We offer a free consultation, where we can talk through your options.
Resource:
theledger.com/news/20190823/law-electronic-wills-are-coming-but-are-they-good-idea
https://www.millhorn.com/what-is-the-difference-between-a-living-will-and-a-dnr/