Choosing A Successor Trustee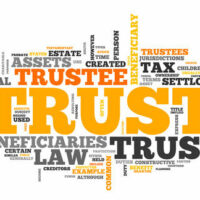 A revocable living trust can be an important part of any estate plan. When creating the trust, you appoint yourself as trustee to oversee the management of the trust assets. But what happens when you die, or if you become incapacitated and can no longer make decisions? In these situations, someone else needs to step up and act as the trustee. You can name this person as your successor trustee when you create the trust.
Successor Trustee Duties
Before selecting a successor trustee, identify their duties. Doing so will give you some idea of the type of person you should select to act in this capacity.
The trustee will manage the trust assets when you become incapacitated. Because they are bound to follow the instructions given in the trust, you should give careful thought as to how you want the assets managed when you can no longer make decisions. For example, you might have invested trust assets in the stock market but want to prevent them from being invested in real estate.
Upon death, the trustee will act like the personal representative of a will. He or she will collect your estate assets, create an inventory, and pay final bills. The trustee will also file necessary tax returns and remit any taxes owed.
Your trustee also distributes assets at death per the instruction in the trust. Unlike a personal representative, however, the trustee will handle the process largely without any supervision from the probate court. Lack of supervision can make distributing assets faster and easier, but it also creates the opportunity for abuse. Accordingly, you must pick a trustee you can trust.
Qualities to Look For
The law places few limits on who you can name as a successor trustee. Before choosing, however, you should identify people who have the skills a trustee needs:
Detail oriented
Punctual
Trustworthy
Careful
Your trustee may also be in communication with your surviving family members, so you should place a premium on choosing someone who can communicate effectively. If you have two children who dislike each other, then making one the trustee could be a mistake.
Many people choose their spouse, adult children, or friends to act as their trustee. You can also choose an entity like a lawyer or a bank. There is no "one size fits all" approach. For example, if you have large, complicated assets in a trust, then choosing a family member might be a mistake. They could quickly become overwhelmed and not manage the assets properly.
Whoever you choose, you should provide for the payment of trustee fees in the trust. Acting as a trustee is a lot of work, even for smaller trusts, and you should compensate the person for their service.
Don't Know Who to Choose? Speak with an Estate Planning Attorney at The Villages
The Florida estate planning attorneys at the Millhorn Elder Law Planning Group have decades of combined experience helping clients realize their estate planning goals. If you would like help creating a trust, please reach out to us today.
Resource:
investopedia.com/articles/pf/06/revocablelivingtrust.asp