Estate Planning For A Blended Family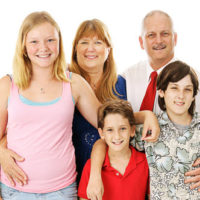 Estate planning when you have a blended family sometimes has to be handled carefully to ensure that everyone in the new family is well taken care of in the event of death. A parent may wonder if his or her children will be well cared for by the surviving spouse who also has his or her own children to consider. The concern may be that even if the surviving spouse provides for step children in a will, the provisions will not be as favorable as those made to the surviving spouse's natural children.
One way couples in a blended family try to take care of this is to sign reciprocal wills, where the spouses make wills that are identical in their provisions, and ensure that all children in the new blended family receive an equal share of the estate. The couple can also choose to make a joint will, where they make provisions for each spouse and each child, and the surviving spouse cannot change the terms of the will after the other spouse dies.
Blended couples can also explore the idea of making an agreement to make wills that divide the estate in a certain manner. The agreement can be to make wills leaving property in a certain way, or the couple can also use the agreement to agree not to change the terms of a will after it has been made. These agreements are enforceable even after the death of one spouse, as long as they are in writing and witnessed by two witnesses.
While these agreements are good in theory, a spouse may find other ways to go against the agreement, for example by making gifts during his lifetime so that there isn't much left to leave in the will. These agreements also leave little flexibility to make changes as circumstances change after one spouse dies. If one child suffers an accident and ends up needing more assistance than the others, the agreement may prevent the spouse from changing to will to give this child a larger share of the estate than the other children.
People who want to make estate plans for a blended family should consider a wide variety of planning instrument, including trusts, prenuptial or postnuptial agreements, and life insurance policies. There is a lot to consider, and it requires the couple to have discussions individually and jointly with their attorneys in order to come up with a plan that is not likely to be legally challenged after someone dies.
Contact Us for Further Assistance
If you have recently joined your family to create a new blended family, you need to update your estate plan to take into account this major life change. Even if you believe your new spouse will take care of your children after your death, you should still take precautions to ensure this is done according to your wishes. For a consultation on which approach may work best for your changed situation, and to update your current estate planning documents, call an experienced estate planning attorney from the Millhorn Elder Law Planning Group located in The Villages, Florida.
Resources:
scholar.google.com/scholar_case?case=1139083328538469382&q=joint+will&hl=en&as_sdt=4,10
leg.state.fl.us/Statutes/index.cfm?App_mode=Display_Statute&URL=0700-0799/0732/Sections/0732.701.html