How to Find a Will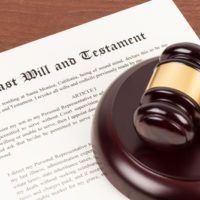 Writing a will is technically optional under Florida law. If a person dies without a will, then his or her estate will be distributed to heirs under Florida law. Of course, we recommend that everyone create an estate plan, which might include a will. However, according to USA Today, almost 2 out of 3 Americans don't have a will.
After a relative passes, you might find yourself searching for a will. If lucky, your loved one will have all his or her important papers in an easy-to-find place. In other situations, however, family members have to dig to find out whether their loved one had a will. Below, we identify where you can look.
Check if Your Loved One Had an Attorney
Go through his or her address book and try to identify any lawyers. You can then check with them to see if they perhaps drafted a will or had a copy of the will. If not, ask if they know of any other local attorneys who your loved one might have met with.
Contact a Financial Advisor or Accountant
These professionals have a good idea of your loved one's financial affairs and could know if a will was created. Call them up and identify yourself.
Look in a Safe or a Safe Deposit Box
If your loved one had a safe, then the will might be in there. Your loved one hopefully had the combination nearby or told someone the combination before dying. The will might also be in a safe deposit box.
Find Other Important Papers
If you see a copy of a birth or marriage certificate, then look through each piece of paper carefully. People often keep a copy of their will with other important documents, such as tax returns and other financial records.
Ask Friends
Your loved one might have told friends about creating a will. Ask around. When you tell them that your relative has died, you can also raise the issue of a will. Simply ask, "Did she say anything about a creating a will or meeting with a lawyer?" Follow up with any leads.
Look on Your Loved One's Computer
He or she might have a digital copy of a will in a file folder or on a zip drive. Make a thorough check. There might also be a digital copy attached to an email, so go through the email inbox as well.
Ask Your Loved One Before He or She Dies
Don't be embarrassed. It is a big hassle if you start probating an estate only for a will to surface halfway through. When your loved one is alive, ask if they have a will and its location. This can make the process much easier.
Contact an Attorney
These are only some of the more common places where a will might be kept. If you need help with the probate process, contact Millhorn Elder Law Planning Group today. One of our estate planning attorneys in The Villages will be happy to meet with you. Please call 800-743-9732 to schedule a complimentary consultation.
Resource:
usatoday.com/story/money/personalfinance/2015/07/11/estate-plan-will/71270548/
https://www.millhorn.com/4-reasons-to-meet-with-an-elder-law-attorney/