New Scam Uses DNA Testing Kits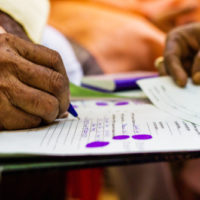 At Millhorn Elder Law Planning Group, our estate planning lawyers stay on top of the latest scams targeting senior citizens. Scammers have cost Floridians millions of dollars over the years, so we do our best to highlight the latest tactics. If there's one thing we can count on, it is that scammers never rest. But neither will we.
A news story out of Tennessee caught our eye recently. Apparently, scammers are now using DNA test kits to bilk innocent victims of their money. If you or a loved one suspect that you have been scammed, contact the police right away.
How the Scam Works
According to News 4, scammers have begun descending on senior centers and other places where elderly Americans congregate. The scammers have DNA testing kits and say that they work for a legitimate DNA company.
These fraudsters then offer to take a DNA test to screen for certain ailments like cancer. If the senior agrees, then the scammer performs a swab on the inside of the person's cheek to remove genetic material.
As should surprise no one, these scammers are not offering DNA tests with good intentions. Instead, the scammer also asks for personal information, such as:
Social Security Number
Medicare Number
Banking information
One selling point is that the scammers falsely claim that Medicare will cover the cost of the exam. Instead, crooks are using your personal information to make false insurance claims or to outright steal your identity and money from your bank account.
Protecting Our Loved Ones
If someone approaches you or a loved one out of the blue offering a DNA test, you should politely decline. There is certainly some value to these tests, which can sometimes identify a propensity to developing certain diseases. But there is no reason to have some stranger perform the test. For one thing, you have no idea if they are even qualified to take a buccal swab from your cheek. For another, you don't know what they will do with your DNA information.
Instead, if you want a DNA test performed, talk to your doctor. Ask if this is a test that would benefit you at your age. If it is, then your doctor can either perform the test for you or refer you to someone else.
There is never a reason to let some stranger perform a DNA test. As always, a good rule of thumb is to never share personal information with someone who contacts you out of the blue. The person is often a scammer.
You should also report anyone offering to perform a DNA test to the authorities. We don't yet know if the scam has made it to Florida, but it is already in Kentucky and could be headed toward The Villages shortly.
Legal Advice in Your Golden Years
If you are a senior with a legal issue, Millhorn Elder Law Planning Group could help. We are experienced elder law attorneys in Florida who have helped many residents with their legal needs, including guardianship, estate planning, and other issues.
Please contact us right away. Often, a legal issue is easier to handle the sooner you reach out. You can call 800-743-9732 or send us an online message.
Resource:
wsmv.com/news/scammers-using-dna-test-kits-to-target-senior-citizens/article_050a6d40-7132-11e9-a3b9-c3d12e0fccf0.html
https://www.millhorn.com/what-to-do-with-difficult-assets-in-your-estate-plan/