The Importance Of Selecting A Safe Long-Term Care Facility For Your Elderly Loved One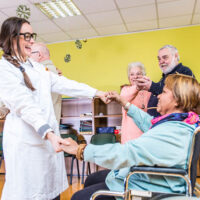 Visiting your loved one who lives in assisted living is something that is highly recommended. Not only can this boost the morale of your loved one who will undoubtedly be excited to see you, but also it allows you to examine and check their surroundings. Even though it is unsettling to think about, elder abuse is a common problem in long-term and assisted living facilities. And often, it persists, because the individuals living in the facility cannot protect or advocate for themselves. When visitors come, these extra scrutinizing eyes can detect anything amiss and make it known to the staff or the facilities management.
Considering as high as five million seniors suffer abuse in these facilities on an annual basis in the United States, stopping in to see your loved one regularly is not a bad idea. If you know your aging loved one will need long-term care, starting to do your research for the right home that has the services they need and is rated highly for safety is critically important. Though, considering how pricey these establishments can cost, working with an experienced elder law attorney can be incredibly advantageous. The Villages long-term care planning attorneys at Millhorn Elder Law Planning Group can help you when you are thinking about the future needs of your aging loved one.
How to Keep an Elderly Individual Safe in a Long-Term Care Facility
Certainly, the most proactive way to keep your elderly loved ones safe if they are residing in a nursing home is to see them in their environment. When you are visiting them, keeping a detailed and keen eye on what is happening around you, how the staff is operating, and the conditions of the facility are imperative. Also, interfacing with your loved one and being aware of if they are showing any signs of abuse such as excess agitation, unusual bruising, disproportionate weight loss, or other indicators that an issue may exist is going to be important.
Florida nursing home laws require staff and management to provide a reasonable duty of care to residents. Still, many fall short of this expectation and legal requirement. As a result, any of the following situations can take place:
Increased dangerous falling incidents
Insufficient supervision
Poor nutrition practices
Inadequate infection prevention protocols and management guidelines
Insubstantial fluid administration
Lack of necessary medical care and maintenance
Unsafe environmental hazards
Poorly trained staffing
Bedsores
Understanding your loved one's rights when they are living in a nursing home and monitoring their environment is essential to keeping them safe. If there is an issue witnessed, following the facility's grievance protocols is necessary.
Ultimately, the best-case scenario is that your loved one is not in a home that could potentially be harmful to them to reside in during the later years of their life. There is no way to completely ensure that any home will not have its perils or risks no matter how much research you do. But, putting the time into finding a place that has an excellent reputation could make a big difference in how your loved one is treated and cared for when they require the assistance of one of these facilities.
Speak to a Florida Elder Law Attorney in The Villages Florida Today
Planning to pay for such services and requirements should be done in advance so that you can improve the chances that your loved one gets into the right place for their personal needs and that will preserve and protect them and their quality of life. For help and to learn more, please call The Villages elder law planning lawyers at Millhorn Elder Law Planning Group today to schedule a free consultation at 800-743-9732.
Source:
flsenate.gov/Laws/Statutes/2020/Chapter400