Understanding Florida Probate And Estate Sales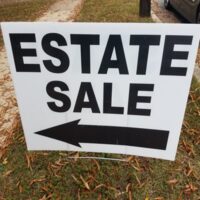 Michael's parents were avid collectors. They owned an antique store in Central Florida, and what they did not sell at the shop, they brought home to admire. Soon, their home of forty-five years was overwhelmed with trinkets and antique furniture in every corner. Michael explained to his parents that they should try to sell or donate items they did not use regularly, but they could not be convinced, arguing items would appreciate in value with time. Sadly, both his parents passed away last year without leaving a will. Now, Michael must make the difficult decision to host an estate sale for furnishings he does not wish to keep himself while also proceeding with probate administration. What tips should he keep in mind?
What is an Estate Sale? 
In Florida, an estate sale is the process of selling items via auction or informally that beneficiaries do not wish to keep, or were not previously designated in the decedent's will. Florida Probate Code 733.612 states that the personal representative appointed to the decedent's estate (usually a loved one) can sell, mortgage or lease any personal property that belonged to the decedent so long as it is in the best interest of all interested persons to the estate. Interested persons include other family members and relatives named in the decedent's will if they did not die intestate. In some cases, a deceased loved one may have amassed so much personal property that there is simply too much to comb through and divide between interested persons. One viable option for items that do not hold sentimental value is to hold an estate sale.
At an estate sale, which usually occurs on the decedent's property, the personal representative has the option to hire an auctioneer and conduct the sale like an auction. This method is more expensive but often nets greater returns for items because potential buyers compete against each other for the item. Or, items can be sold as is and potential buyers are given the chance to examine items before making an offer. The personal representative should keep a detailed list of what was sold, for what price, and to whom. If the decedent left a will with explicit instructions about personal property, the personal representative must adhere to those instructions. For example, if the decedent stated they wanted all furniture donated to a non-profit, the personal representative must do just that instead of selling the items for profit. 
What about Real Property Sales? 
Real property sales are more complicated. Florida Probate Code 733.613 only allows sale of real property if the decedent's will contained a power of sale clause. Without that provision, the personal representative must go through probate and obtain an order from court to sell the home. In addition, if the decedent died intestate, the personal representative must also petition the court to proceed with sale of the home. Once approved by the court, the personal representative can sell the home privately or list it publicly for sale. If the personal representative attempts to sell property for which there was no power of sale clause, title will not convey to the new buyer until the court approves the sale. This includes limitations on renting the home. 
Contact the Estate Administration Attorneys at Millhorn Elder Law Planning Group 
Probate and estate administration is complicated. Many people assume that closing an estate is straight-forward, but there are procedural rules personal representatives must adhere to in order for the estate to close. Sale of personal property and real estate belonging to the decedent is no exception. If you are currently engaged in estate planning, consider adding a power of sale clause to your last will and testament. If you need assistance with Florida probate administration, call our probate attorneys at Millhorn Elder Law Planning Group today.
Source:
leg.state.fl.us/statutes/index.cfm?App_mode=Display_Statute&Search_String=&URL=0700-0799/0733/Sections/0733.613.html