What Exactly is Probate, Anyway?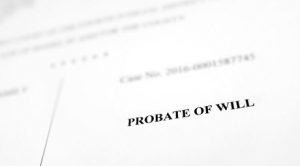 Probate is an important part of the process of estate administration process after someone dies. Ultimately, anyone who is interested in creating an estate plan should reach out to an attorney to learn more about the probate process, and how it could affect their future estate.
What Probate Is
Probate is a legal process that takes place with the supervision of the court. It happens after someone dies and is a large part of the process of closing up someone's estate and distributing assets to the heirs of the deceased person. Probate is the process where the will of the person who died is brought before the court so that it can be proven to the court that the will is valid. This may sound difficult, but is usually relatively straightforward. Probate is also the time that the property of the deceased person is gathered up, debts, taxes, and other fees are paid and creditors are able to step forward. The property may also be valued and appraised, if necessary. After all the debts are settled the remaining assets are distributed to the beneficiaries as per the will's instructions.
The Purpose and Process of Probate
Probate allows the executor of the will the time and power of the court to gather the assets and settle the estate of the deceased person. The court is also able order the estate to release some money to close family members in order to be able to pay some of the bills that have come in and to help support any family members who were dependent upon the deceased person. Like many court processes, probate involves the filing of papers and going in front of the judge. While technically you do not need an attorney to probate someone else's will, for most estates you will want the assistance of a qualified attorney, especially if there are any complications, the estate is large, or the legitimacy of the will may be questioned.
Is Probate Necessary?
While probate can serve an important purpose, there are ways to get to those same ends without going through the long and costly probate process. Many people will instead use will substitutes such as trusts and insurance policies where the beneficiaries get the money directly. If you are thinking about your own or a loved one's estate planning, you can talk to a skilled estate planning attorney to find ways to avoid probate.
Contact Us for Help with the Probate Process
If you are thinking about your own estate, or are tasked with probating a loved one's estate, you should get the assistance of a knowledgeable probate attorney to help you with the process. Our experienced probate attorneys at Millhorn Elder Law Planning Group in The Villages in Florida can help you with all of your probate and estate planning needs.