What Makes a Good Trustee?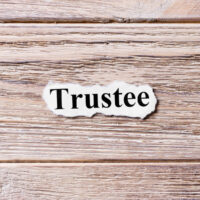 The person who administers a trust is called a "trustee." This person will have enormous power, so it is important to choose someone who is well qualified for the job. With many inter vivos trusts, the person creating the trust serves as its trustee. But in some situations, it makes more sense to name someone else to serve in this capacity. But who should you pick?
A trustee has many duties—to manage the assets in the trust, to distribute them, and to legally represent the trust in proceedings. These duties are complicated, but trustees do not have to act alone. Instead, they can get help with trust administration from an experienced attorney.
A Trustee Should Be Good with Money
If you choose someone who is careless or reckless with how they manage money, then the trust will soon be depleted. Your trustee should be sufficiently careful with money.
Some trusts actually invest assets, such as money in the stock market. If the trustee is too risky with investment choices, then the trust can dramatically decrease during a market downturn.
Other trusts have property, like a home. The trustee should be sufficiently careful that he buys insurance for the home and regularly inspects it to make sure that it is not falling down. The trustee should ensure that repairs are done promptly and adequately so that the asset retains its value.
Trustees obviously cannot use trust assets for their own purposes.  You don't want a trustee dipping into the trust for a "loan." Ideally, the trustee will not be in financial trouble themselves, which only increases the risk that they will misappropriate trust assets.
A Trustee Should Communicate Effectively
With some trusts, the trustee distributes all assets after the grantor's death, much as what happens with a will. But other trustees must actively manage the trust and deal with beneficiaries, possibly for decades. Therefore, communication skills are key.
Your trustee should be a person with empathy who can effectively listen to the beneficiary's complaints. Sometimes, trustees must decline a beneficiary's request, but this must be done with care and professionalism. The root of much trust litigation involves breakdowns in communication.
A Trustee Should Know When They Need Help
Administering a trust is complicated. Many legal, tax, and financial issues arise that trustees need professional help with. To fulfill their fiduciary duties, a trustee might need to hire a professional to help them with an issue. This is the right step, rather than guessing what to do or trying to do online research.
Choose a trustee who is not embarrassed to admit when they don't know something. This is actually a pretty rare person, when you think of it. For this reason, you might need to spend some time with an attorney discussing acceptable trustees.
Contact Millhorn Elder Law Planning Group today. Our estate planning lawyers have deep experience in trust administration and can help answer any questions you have. Please call toll-free 800-743-9732 to schedule a free consultation with one of our lawyers in The Villages.
https://www.millhorn.com/should-you-serve-as-a-personal-representative/