Watch Out for Romance Scams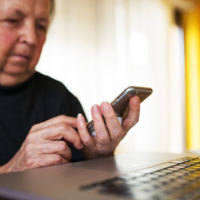 Many seniors have recently lost a spouse or have divorced and are feeling lonely. This is perfectly normal and one of the challenges of aging. Unfortunately, predators are well aware of this fact and take full advantage, perpetrating romance scams that can cost many seniors thousands of dollars.
One scam that came to light in Utah involved a prison inmate incarcerated for murder bilking an elderly woman of nearly $300,000. According to the DesertNews, Frank Gene Powell took advantage of an 80-year-old woman who lived in Southern Utah by pretending to be in love with her and stating he wanted to marry her. The woman apparently has diminished mental capacity and first met Powell when he stopped by her home pretending to be a carpenter. He claimed her home needed repairs and offered to do the work for free. Powell then escalated the situation and wrote love letters to the woman.
In all, the woman paid Powell and his associated at least $296,000. She also signed over the deed to her cabin. Fortunately, federal authorities caught up with Powell and his associates and have charged him with a variety of crimes.
Signs to Be Aware Of
The scam Powell perpetrated is somewhat unusual in that it took place in person instead of online. Many scammers use Facebook and dating sites like Match.com to meet their targets. Some scammers are even pretending to be a different gender as they slowly reel in their victims.
According to AARP, federal authorities tabulated over 21,300 suspected romance scams in 2018, which was a huge jump over prior years. Helpfully, seniors can take steps to protect themselves.
First, look for warning signs. For example, someone might try to quickly get your personal email address or phone number to communicate off the dating website. They might also make promises to meet with you in person but never follow through. Many scammers have detailed lies for why they are never able to meet face to face, and you should be wary if this happens more than once.
How to Protect Yourself
AARP also recommends the following:
Take a person's dating profile photo and perform a Google "search by image." If the person is using someone else's image, then this is a clear warning sign that the person is a scammer.
Avoid sending cash or gift cards to someone you have only ever met online. In fact, you should be wary about financially helping someone out even after you meet in person. Always question why someone needs money.
Don't share personal details like your date of birth, Social Security number, or even the street address where you live. Scammers might use this information to commit identity theft.
Trust your gut. Many people suspect that something is wrong but convince themselves that the relationship is real.
If you suspect a scammer, contact the dating website. If you met a person offline, then call the police.
If you have an elderly parent who is dating, you should discuss these concerns with them. You obviously cannot control who an elderly parents sees, but you should encourage them to come to you with any questions and to not be embarrassed to admit if they have been scammed. Some seniors try to cover up that they were taken advantage of and end up worse off.
Millhorn Elder Law Planning Group is a leading elder law firm in The Villages. Our team helps our clients with their legal needs, including probate, estate planning, guardianship, and other issues. Contact us today to schedule a free consultation.
Resource:
deseret.com/utah/2019/11/29/20985716/frank-powell-utah-romance-fraud-case
aarp.org/money/scams-fraud/info-2019/romance.html?CMP=KNC-DSO-Adobe-Bing-FRD-Generic-Scams-Dating-Scam&s_kwcid=AL!4520!10!74148442350552!74148405473690&ef_id=XPfMhwAAALjONBOg:20191201170327:s
https://www.millhorn.com/doctor-allegedly-swindles-patient-out-of-his-home/